2023 Sponsors
MonteCedro, an ECS Senior Living Community
MonteCedro is a resort-style senior living community where exceptional is the standard – from our award-winning cuisine and personalize health and wellness plans to our abundant social, cultural and educational programming. Here, you design the life you want. With the choice you deserve, freedom you desire and flexibility you can count on. Because life is what you make it. Your Legacy is Now.
MonteCedro
2212 El Molino Ave
Altadena, CA 91001
montecedro.org
(626) 788-4924

Pasadena Tournament of Roses Foundation
Though its fame is worldwide, the Tournament of Roses Association remains committed to its hometown. In 1983, the non-profit Tournament of Roses Foundation was created to receive and manage contributions from the Association, its members, friends, and supporters, and the general public. In turn, the Foundation annually makes grants to other non-profit organizations in the Pasadena area, funding sports and recreation activities, visual and performing arts, and education programs. These broad categories allow the Foundation to contribute to the civic, cultural and educational advancement of its local communities. #TORFoundation
Pasadena Tournament of Roses Foundation
391 South Orange Grove Blvd.
Pasadena, CA 91184
tournamentofroses.com/foundation/
foundation@tournamentofroses.org
626-449-4100
Altadena Libraries
Bringing PEOPLE + IDEAS Together
Altadena Libraries
600 E. Mariposa St.
Altadena CA 91001
altadenalibrary.org
(626) 798-0833
Hello@altadenalibrary.org
Find Us on Social Media @AltadenaLibrary

Pasadena Showcase House for the Arts
Pasadena Showcase House for the Arts, an all-volunteer, nonprofit organization, has supported local music and arts programs since 1948. With the hard work and dedication of its 200+ members, the organization raises funds from its major benefit,
the Pasadena Showcase House of Design—one of the country's oldest, largest, and most successful home and garden tours.
Throughout its history, Pasadena Showcase has given more than $25 million to nonprofit organizations in support of music education, scholarships, concerts, and music therapy, while continuing to support the LA Phil and its learning programs for which the organization was first founded.
Pasadena Showcase House for the Arts
PO BOX 93486
Pasadena CA 91109-3486
pasadenashowcase.org
(626) 578-8500
Zoeller & Associates: Educational Achievement
Zoeller & Associates works one-on-one with students at all grade levels and in virtually all subjects. We provide a wide range of services including academic coaching, test preparation, Learning Style™ profiles & homeschool support. Please visit our website for more information about our services and philosophy.
Zoeller & Associates
2400 North Lake Ave.
Altadena, CA 91001
www.zaeducate.com
info@zaeducate.com
626-797-3719
Payden & Rygel
40 Years of Inspiring Confidence with an Unwavering Commitment to our Clients' Investment Management Objectives
James Sarni
333 S Grand Ave. Ste 39th Fl.
Los Angeles , CA 90071
payden.com
(213) 830-4259

City of Hope
City of Hope offers world-class cancer care and unparalleled outcomes. Compassion and discovery are at the heart of our approach with physicians, scientists, and researchers all working towards one goal – curing your cancer. Our dedicated care teams are ready to support you on that journey.
630 S Raymond Ave #220,
Pasadena, CA 91105
209 Fair Oaks Ave, S
Pasadena, CA 91030
720 E Colorado St,
Glendale, CA 91205
222 W Eulalia St Suite 100-B,
Glendale, CA 91204
Linda Seyffert – Deasy, Penner, Podley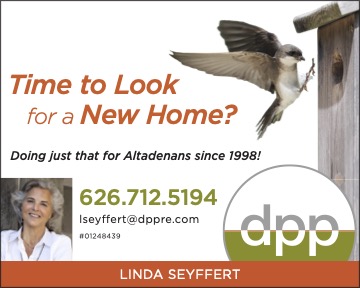 Altadena Town & Country Club
The Altadena Town & Country Club is a private, member equity owned club. The Club is also an elegant events venue, offering several ballrooms, outdoor sites, and full-service catering.
Altadena Town & Country Club
2290 Country Club Drive
Altadena, CA 91001
www.altaclub.com
626.794.7163

Pasadena FCU
Engage. Educate. Inspire.
We have served Pasadena for over 85 years, and we continue to provide the local community with the best in service, value, and local focus.
Pasadena Federal Credit Union
1285 N. Lake Ave.
Pasadena, CA 91104
www.pfcu.org
800-445-7328
pfcu@pfcu.org
Grocery Outlet of Altadena
Touching lives for the better
Grocery Outlet of Altadena
2270 Lake Ave.
Altadena, CA 91001
www.groceryoutlet.com/store-%20locator?store_location=altadena
(626) 314-2700
altadena@groceryoutlet.com
DMDS Partners, Inc.
DMDS Partners, Inc. is a full-service evaluation, applied research, and grant-writing corporation based in Los Angeles County, specializing in service to the Educational and Non-Profit sectors
DMDS Partners, Inc.
Altadena, CA
www.dmdspartnersinc.com
(626) 365-1255
admin@dmdspartnersinc.com
Dr. David Campbell
Thank you Sponsors!